Looking to get wet and escape the heat this summer? Well, look no further because we've got you covered! Thankfully, there are lots of great options of the best San Antonio water park, splash pad, resort, and pools around the city. All these are awesome choices to keep us and our kiddos cool and also have a ton of fun!
So, if you are searching for "water park San Antonio," "splash pad San Antonio," "San Antonio water park hotel," or "San Antonio resorts with water park," we got you covered!
Go ahead and grab your swimwear, pack your bags, and get ready to go on an unforgettable aquatic adventure! With our guide to the best San Antonio Water Park, Splash Pads San Antonio, and even hotels in San Antonio with water park, you'll definitely find one near you that fits your wants and budget.
From the iconic Six Flags San Antonio water park to the enchanting Seaworld San antonio water park, there's something for everyone on our list. So, get ready to make a splash and beat the heat this 2023!
---
Editor's Note: Our staff works hard to bring you the latest information. However, all information mentioned in this article is subject to change. As always, please confirm before heading out.
Also, check out our posts on Free Museum Days San Antonio 2023, Summer Camps San Antonio 2023, Date ideas in San Antonio, and Romantic Restaurants San Antonio!
---
Set your own pace as you go sightseeing with the San Antonio Explorer Pass by Go City, valid for 60 days after your first use. Select two, three, four, or five top attractions, tours, or activities and get incredible savings of up to 45 percent compared to buying individual tickets. Enjoy the freedom to choose and visit popular sites such as the Texas Ranger Museum, San Antonio River Cruise, or Six Flags Fiesta Texas.
Get more information and book your Go City: San Antonio Explorer Pass – Choose 2, 3, 4, or 5 Attractions TODAY!!!
---
San Antonio Water Park, resort pools, and slides
Where: SeaWorld & Aquatica, 10500 SeaWorld Dr, San Antonio, TX 78251
At Aquatica, visitors can cool off as they slide next to stingrays, feel the rush on water slides, and relax on beaches. Feel the rush of exhilarating new thrills on the Tonga Twister at Aquatica San Antonio. This heart-pounding water slide features fully enclosed aqualucent tubes that deliver an electrifying sight and sound experience, the first of its kind in Texas.
---
Where: Six Flags Fiesta, 17000 W I-10, San Antonio, TX 78257
Your season pass or membership to Six Flags Fiesta Texas includes use of their popular San Antonio water park.
---
Where: Schlitterbahn, 400 N Liberty Ave, New Braunfels, TX 78130
Voted the World's Best Waterpark by Amusement Today, Schlitterbahn boasts the hottest, coolest time in Texas with a wave pool, slides, and tubing on the Comal River.
---
Where: JW Marriott San Antonio Hill Country Resort & Spa, 23808 Resort Pkwy, San Antonio, TX 78261
This luxury property is great for family staycations. JW Marriott has two super cool, very steep water slides, a zero-entry pool, and a 6,000-gallon hot tub. For guests of the resort only.
---
Where: La Cantera Resort, 16641 La Cantera Pkwy, San Antonio, TX 78256
This newly renovated Hill Country gem offers five pools (one for adults only) as well as private poolside cabanas for rent. Kids will love the pool designed just for them which includes a splash area for toddlers and two water slides. For guests of the resort only.
---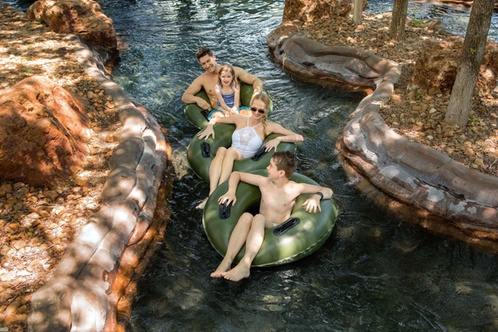 Where: Hyatt Regency Hill Country Resort and Spa, 9800 Hyatt Resort Dr, San Antonio, TX 78251
The Hyatt Regency Hill Country Resort boasts a 5-acre waterpark which includes a Ramblin' River, a 22′ water slide, and a thrill-seeker's dream called the FlowRider wave ride. For resort guests only.
Deal Alert: Check for deals to save on your next visit to the Hyatt Regency Hill Country
---
Enjoy a fun-filled and active excursion out on the water with this private pontoon boat and tubing experience. Make your own way to the dock on Canyon Lake, meet your guide, and hop aboard your vessel. The flexible itinerary is entirely up to you: you can relax on board and soak up the sun, can head to an island beach to sunbathe, can go lake swimming and fishing—and even go tub-towing.
Bring the kids along on this family-friendly excursion A private tour gives you the freedom to customize your schedule. Choose to swim, relax, fish, sunbathe, and go tub-towing. This pontoon boat tour makes it easy to soak up the scenery'
Get more information and book your Private Pontoon Tour of Canyon Lake TODAY!
---
San Antonio Water Park – Free Splash Pads San Antonio
Where: Hemisfair, 434 S Alamo St, San Antonio, TX 78205
This beautiful and popular park is located in the heart of downtown San Antonio. It opened only a few of years ago so this is one of the newest San Antonio splash pads. A great feature of this splash pad is the nearby changing rooms and restrooms. And, when you're done in the water, there are many places to sit, play, and chill out while you dry off.
---
Where: The Park at Pearl, 312 Pearl Pkwy, San Antonio, TX 78215
Located near The Twig, Gustav's Geysers is somewhat small splash pad but welcomes children attending the popular weekend Farmer's Market or any day, really. It's a fun place where parents can sit nearby to chat and sip coffee while kids cool off in the spray.
---
Where: Fischer Park, 1935 Hilltop Summit Road, New Braunfels, TX 78130
A few years back, Fischer Park in New Braunfels added an amazing Sprayground. It's getting rave reviews from kids and parents. We love the eco-friendly aspect of this splash pad: the runoff from the Sprayground gets captured in the nearby fishing ponds and reused for the park's irrigation. This splash pad is free to visit but, if you are not a New Braunfels resident and you decide to eat at one of the park's picnic tables, you may have to pay a fee.
---
Where: Pearsall Park, 4838 Old Pearsall Rd, San Antonio, TX 78242
The splash pad at Pearsall Park, which opened in June 2016 during the Pearsall Park Grand Opening Celebration, is the largest splash pad in San Antonio! Clean, modern restroom and changing room facilities are located right by the splash pad, as are picnic tables, a new playground, a skate park, and sweeping views behind the playground.
---
Where: Park West Splash Pad, 623 N Vaughan Ave, Seguin, TX 78155
Like the splash pad at Yanaguana Garden, this splash pad debuted October 2015 on the corner of San Antonio Street and North Vaughan Avenues in Sequin. The splash pad's claim to fame is its prevalent shade, located right next to it, providing parents who don't want to get wet with a way to stay cool while watching their kids.
---
Where: Bulverde Community Park, 29815 Bulverde Lane in Bulverde, TX 78163
This splash pad lets kids control the water feature. Plenty of shade and a playscape are both nearby.
---
Where: Voight Park, 700 El Portal Dr, Hollywood Park, TX 78232
Open Tuesdays through Sundays from 7 am to 10 pm, Voigt Park has a little sprayground that's perfect for the little ones. There's also a pool you can swim in for a minor fee.
---
The Standard South Central Texas Pogo Pass (San Antonio/Austin/Waco) provides admissions to 35 different entertainment venues in the San Antonio, Austin and Waco area.
Perfect for families, the Pogo Pass gives both adult and child pass-holders 50+ visits to some of the best things to do that San Antonio, Austin and Waco have to offer. The Pogo Pass nearly pays for itself with a visit to one or two venues alone!!!
Pass Features the following Attractions in San Antonio
One visit to the San Antonio Zoo
One visit to the Witte Museum
One visit to the Buckhorn Museum
One visit to Wonder World Park
One visit to the San Antonio Aquarium
One visit to Rush Fun Park
Six tickets to the University of Texas – San Antonio athletic events (multiple sports)
Two visits to Pump It Up
Two visits to Monster Mini Golf & Laser Tag for a round of Mini Golf
Check out the POGO pass and SAVE Big on San Antonio Attractions!
---
San Antonio Water Park – Free pools
The San Antonio Parks and Recreation Department offers free swimming at 24 outdoor area pools. Check back for 2023 dates and times, but in prior years the schedule has been as follows:
Open Swim:
Tuesday – Thursday 4:00 p.m. – 7:00 p.m.
Saturday/Sunday 1:00 p.m. – 7:00 p.m.
Lap Swim
Tuesday – Thursday 7:30 a.m. – 9:30 a.m.
You can get more info about San Antonio pools at this link.
---
San Antonio Water Park – More Splash Pads and Pools (Not Free)
Where: 12002 Jones Maltsberger Rd #2917, San Antonio, TX 78216
---
Where: 7001 Culebra Rd, San Antonio, TX 78238
---
Where: 8400 N Loop 1604 W, San Antonio, TX 78249
---
This member's only splash pad is 1,000 square feet. They also have a pool and teach swimming lessons.
These YMCA locations also offer pools and swimming lessons:
Davis-Scott
Thousand Oaks
Walzem
Westside
Know of any other great San Antonio water parks, splash pads or pools we forgot? Comment below and let us know!
---
Stay up to date on all fun things going on in San Antonio with our weekly updates to Things to do in San Antonio this Week, Things to do in San Antonio this Weekend, & Things to do in San Antonio with Kids this Weekend
And to have these updates delivered directly to your feed, give us a follow on Facebook by clicking on the …next to the search lens icon
Latest posts by SATTD Staff
(see all)